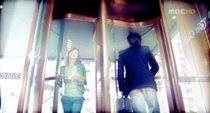 "romance makes the lips tremble, love makes the heart tremble"
Soulmate
:
it's a romantic comedy drama series portraying love and relationship realistically,
dealing with how men and women differ in how they communicate...
the dialogues were witty…refreshing...simple but deep meaning...
genuinely funny and moving.
Soulmate has a very engaging plot,
takes on the philosophical question of whether soulmates and fate exist, demonstrating the point with each of its pairings. It
fully fleshed out characters. The story is mainly about 6 characters who happen to be entangled in a twisted way in seeking of the relationships they desired.
It spills out all the secrets of the love game and enfold that when
you are destined for your soulmate, you'll be drawn to them in spite of everything.
Somewhere in the city is your other half, your soulmate.
The question is, will you be able to find and recognize him/her?
Shin Dong Wook
is a playboy who finds women constantly throwing themselves at him. He's perfected the "game" of dating to an art form. He doesn't necessarily believe in true love or soulmates, but he's content enough to date Hong Yu-jin (whom he met on a blind date) for the moment. He
knows just
how to make women fall for him, starts off treating love as a game and his romance philosophy, reading, "In the game of love, the one who loves less always has the advantage." Did i mention he's a one deym hot dude~ lalala~ *melts* ♥
Lee Soo Kyung
is works as a proofreader at a newspaper, and has dated her boyfriend, Phillip, for five years. She loves Philip and has a content life, but her love has never been challenged, until Phillip proposes to her (on a subway! with a ring she finds pretty much hideous...lolz...)
and she finds herself conflicted rather than happily excited, S
he's still unsure if marriage is the right thing.
She doesn't believe in soulmates either,
that they are just a concept people make up in an attempt to live more comfortably, instead she
believes that sticking to this relationship that's been nurtured with time and commitment will lead to happiness.
Sookyung is the strong on the outside and weak on the inside type of girl.
"Love sometimes says that you need to make sure"
"Love warns, if you don't do it right, it can become a pain."
"Love isn't something you need to confirm; it's something you're sure of"
Two people who have never seen each other, and who live on the opposite sides of the world from each other live and love in their own way, but from some point on they start to move towards the same dream and feel the same physiological feelings. Two people who have met by fate in a world full of mixed up fates. Now, the most amazing things, which no one could have ever thought of, start to unfold between the two.
The theme of soulmates and finding your other half all seems a little too fairytale but once Soulmate turns everyone into a romanticist again.
"There's no such thing as a perfect man or a perfect woman. T
here are only imperfect men and imperfect women, who come together to make a perfect love."
new lagu berhantu (sgt2 best okay...i love the songs straight away...another cheeky & cheesy choice...wonder why i've been attracted to these sexy kinda songs...haha...hearts hearts!!)
♠ basement jaxx - broken dreams
♠ nouvelle vague - this is not a love song