hye i'm alia
and i'm suffering from
apekah bende ini?
ahahaha...
malu seyh
a clinical term of hair loss condition due to patient's repetitive self-pulling of hair
dlm kata lain "penyakit dok cabut rmbut"
ade sesape penah dengar atau mengalaminya sendiri?
seriously i am...
so does some of my friends...
shocking isn't it?
but im not tht serious...xde la smpai botak kepala, seb baik jugak rmbut tebal kan...agk2 kalau dilahirkan rmbut ciput je, sure dah tompok2 je kepala ni...huuu~ though some people who had become too chronic, they really end up being bald...tidakkkkkkkK!
cik B -
"ye ke?
ish, bile tumbuh balik ni, org da cabut dh aritu...
huhu, nk buat ape ni?"
cik A
- "cabut cpt2...yg keretak2 tu...boleh nmpk dpd cni..."
cik B
- "huuu, rmbut mcm ni makin byk pulak...jenuh nk cabut la"
cik A
- "tu la psl...kne rajin2 tgk...eh kejap, ader lagi satu tu, haa sini pun ade lagi"
*dan sesi mencabut rmbut pun bermula*
cik B
- "eh, kt rmbut awk pun ade jugak...cabut cpt..."
*dan penyakit pun menular...huuu~*
cik A berasa sungguh stress memandangkan exm bakal tiba beberapa hari lagi...sambil membelek2 buku di meja study, dirasakan sungguh tension...oleh itu, cik A mula melakukan sedikit stretching di kerusi utk merelekskn muscle2nye...letup2 jari sikit...leher pandang kiri kanan...dan seterusnya ikat balik rambut yg telah mula serabai...huuu...dan terus smbung study...
"mcm best pulak pegang rmbut aku nih"
bisik hatinya...da lme xpegi saloon...bile mule usap2 rmbut tetibe terbit dlm hatinya utk memetik sedikit rmbut2 yg dirase gatal...huuu~ dan sedikit demi sedikit rmbut dipetik...lame2 jadi bukit rmbut...huuu~
it looks like a habit, well people say so...a habit, bad one of course...
but actually if u wanna know, it's now considered as a mental disorder in which the patient might done it consciously or unconsciously...and also the
act of pulling hair might take place in 1-2 sites or even involving multiple sites
...
huuuu...see, penyakit mental tuuu~ :(
associated with irresistible urges to perform unwanted repetitive behavior...c
hildren are more often in the automatic or subconscious type and
may not consciously remember pulling their hair
...other individuals may have focused, or conscious hair pulling, including
seeking specific types of hairs to pull, pulling until the hair feels "just right", or pulling in response to a specific sensation
.
betoiiiiiiiiiiiiiiiiiii!!!!!!
huuuuuu~
but it's true,
xleh tahan la...
kdg2 di luar kesedaran pun...
nasib baik la mine isn't tht serious...
boleh control lagi
cepat2 beristighfar (ecehhh)
dan kembali sedar
kesian rmbut,
lambat kot nk tumbuh tu
nape bende ni jadi?
some says that it's due to stress/depression/sadness...some even said its due to genetic factors...huuu~
for some people, the urge of pulling hair might me satisfying, they took pleasure in it...and some did it out of guilt...
For many, it's similar to the sensation of cutting, with pain and pleasure mixed...
and owh, these
individuals may be secretive or shameful of the hair pulling behavior
(betoiiiiiiii)
so listen people, stop pulling your hair...control your impulse to pull and redirect this impulse towards something else...make sure your hand hold something...keep it away from your hair as much as possible...same la kalau bab JJ (jerawat, jgn dok picit...or sentuh2, lame2 terase nk picit jugak...haha...begitu la analoginye ;p)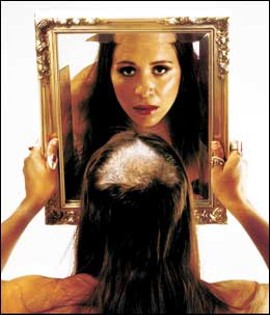 it's only in your head!!!
till then...end of confession! T_T