HERE ARE THE LISTS OF TV SERIES WHICH I FOLLOWED SINCE THE FIRST EPS TILL NOW :) I'M A SUCKER FOR SERIES...ADDICTED LA...HOHO...
1) Gossip Girl
- owh, the new season brings about Dan-Blair combination...love love love and love!!! i don't know why but this brunette-brunette couple with wide round eyes and perfect smiles like theirs really win my heart...haha...the rest xkisah sgt...i adore these couple...pls pls pls let them be together...huhuuuuu...
2) Grey's Anatomy
- i'm waiting for Lexie-Avery couple to start...comel2...though i don't fancy those lesbian slash bi thingy plus pregnancy going on, but i still love the drama...some of the eps were full of romance, but some actually gave me some insight on how a medical life would be...like i said, SOME of them only~ hehehe...apepun, i layan saje...utk tontonan golongan muda mudi only...this isn't suitable for kids, hahaha...and older people eg; the parents hate it so much...hahaha...
3) Vampire Diaries
- stefan & elena are going on strong...i was quite sad when the vampire-warewolve couple (tyler & caroline) didnt make it...dorg sgt comel...huhuhuhu...anyway, there's not much in it...mostly were just about the history and all the plots to kill elena and they were all trying to protect her and break the curse...blablabla bosan...thank god damon salvatore is HOT as always...hahaha...fyi, he won the most voted for favourite fictional vampire (edward cullen pun kalah) hotsssssssss....maka dgn itu nk tunjuk gambar damon in here...lol...drooooooooooooool...hahaha...
4) Brothers & Sisters
- haha...i know...somehow i ended up watching this soap...its not peer pressure, cause my friends sume xtau kewujudan citer ini lalu menimbulkan kehairanan mengape alia dok tgk citer org2 tua yg mengisahkan pasal konflik family...to tell u the truth, it was my mom who kept on bragging that this is the only drama she loves to watch...seriously, mom yg xpernah2 nk layan series ape2, sampai pegi cari setiap episodes in the internet, in case she missed it on tv...i was like whoaaaaa this must be a hell of a drama...which able to make my mom that addicted...hahahaha...mom siap puji2 konon pelakon2 handalan mmg terer sgt, then the scripts were amazing...so i checked it, out of curiosity...lame2 tgk mcm dh terkenan jugak...tgk dpd mula smpai skrg...hahaha...owh, here i love the kevin-scotty couple, they're THE CUTEST GAY COUPLE EVER...not that i support gay thingy, haram kan...but still, comel la...we'll be like "aaaaaaaawwwwwwwww" byk2 kali...haha...
5) House
- hehe...another MD series...i watched this cause i'm interested in the puzzle like diagnosis...mind that those portrait in the drama were all mainly the rare complicated diseases which weren't able to be detected by other doctors hence they brought the patients to this special diagnostic department of house to solve the mystery...susah nk ckp dlm bahasa lebih senang, tp mcm tulah...why am i explaining this? cause some people who didnt knw asked me why does House only treat one patient at a time...mcm tipu...tapi tak tipu pun...mmg ade mcm ni...and house xbyk sgt drama or scandal mcm grey's...so senang sikit nak tgk...i pening kalau bende2 byk scandal ni, dok tukar2 pasangan...geli kot (tapi tgk jugak...lol)...mcm grey's...or worse gossip girl...mmg asyik tukar2 je...sume org adalah ex sume org...pening~ and owh, the new girl is cute
6) Supernatural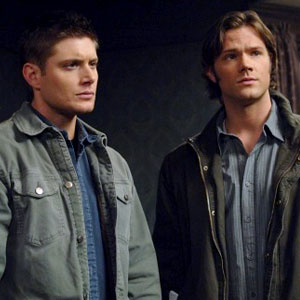 - owh, i love horror ghost2 thingy...sebab tu tgk supernatural dulu2...seram jugak la...kalau dulu2 tgk dgn penuh saspen, but now with the apocalypse plot and with angels demon hell heaven thingy, semua dh merepek2 sgt dh...kiamat rekaan mereka sgt tidak menarik perhatianku...xde hantu takut2 dh...*sigh* xsuke tapi still tgk utk menghabiskan cerita...and of course because of the two hunky brothers yg sgt adorable :) wut else~ comel comel comel sgt sukeeeeeeee!
7) How I Met Your Mother
- LOVESSSSSSSSS...hahaha...can't wait for lily-marshall baby news (they're still working on it)...i want robin-barney couple back...huhuhu...so sad that they split up after a while being a very2 cute couple...ended up by both being too passive and obese...hahaha...hilarious...i want them back!!! lastly of course, who the hell is the mother? get her out already!!! dh season 6 kot...cnt wait to know who they'll gonna cast to be the mother...i wonder if she could trump robin...wait and see... :)
8) Merlin
- my sis was the one who asked me to watch this...she had the whole season 1 & 2...so last hols when i went bck to malaysia, with so much free time i finally ended up watching this series...the characters were unadmirable (a.k.a no hotties...hahahaha) and i hate the one who became gwen...she's old and urrrghhhh just google her if u wanna know...i know the stories of king arthur, he'll end up marrying gwen...sebab tu xsuke...lame2 xberminat nk tgk...kejam ke kalau judge a drama by the cast? hahaha...logik la bukan...disebabkan itu cerita2 zaman dulu2, maka xmungkin gwen akan undergo plastic surgery lalu bertukar menjadi a hot babe...hmm, but i kan jenis yg xleh tgk separuh2...so i am still following it...huhuhu...
9) ALIAS
- i love jennifer garner...and i watched this series till the end...haha...citer serious and complicated...with the plots of rambaldi thingy yg sgt merepek lalu ternyata cerita ini adalah fiction semata-mata, maka i pun ikut jelah tanpa rasa kagum atau tertipu dgn ape2 mitos...hahaha...best la, action series, dgn heroin yg hot sgt2...i ikut sampai habis...owh, she's brilliant, and gorgeous...perfect...and i love to see her changing hairs and clothes...haha...mcm best...vaughn-sydney couple is cute...
10) Prison Break
- alasan xyah ckp la semestinya sebab wentworth miller yg hot itu...lol...never a fan of botak guy until i saw this one...hahaha...sexay...i watched this series till the end too...it was a fast, brilliant, action series that i adore so much...love all the characters, even t-bag yg jahat tu pun i suke...hahahaha...and i got emotionally attached into it...haha...maybe time tu dok perasan yg konon2 i Dr Sara and michael was mine...lol...talking bout teenager...i cried when michael died saving his wife...hahaha...wut a stupid ending, nk lempar tv tp akhirnya dpt menerima kenyataan...emotional bukan? hahahaha...