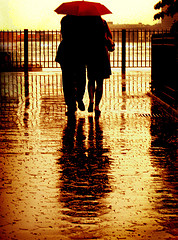 if people ask me, what season is ur fav?
i'd say its the monsoon season...never been to 4-seasoned country...so apart from knwing how beautiful they were from the pictures, or tv or from people's stories, i really2 dnt knw...but when it comes to the rain, i just love it...whenever, wherever it is :) never failed to make me smile...and it gives such a romantic mood too...rite? ehehehe ♥
love the sounds of water drooping out of my windows...the tiny bits of sprinkles out there lying on my balcony...the warps of air with cool breeze... :) they jst make me smile all the way...best cket nk study2 pun...best lagi nk tido...haha...and do u knw wut does tht means people?
ALIA HAS TO GET A NEW UMBRELLA~
its jst about time already :) im gonna shop for one after my exm...this time i wnt it to be blue or black...haha...♥ lets get ready to be fully wet to class!!!
yes kiddo, the feeling is mutual aite :)
sigh~ nobody ever said medic was so easy, nobody ever said medic was hard either...and i just hate the exams...no matter how much u've studied to keep ur mind fully prepared & strong, once u enter the hall, and see the paper, there'll be thousands of ways the questions would kill ur hope & courage...ur confidence will drop down to the most bottom level...and god knws how much it hurts to keep holding on till the end of time...and answer as much as u can, with wutever vague memory u had on that stupid tiny non-significant fact that u'd surely purposely missed tht out because it was just not that important to u...and god also knws how much it hurts when u kept on cursing urself for thinking tht it was not important...moral of the story, medic is tough because u have to READ+MEMORISE, even the smallest fact on the page because it will be asked in ur exm...EVERYTHING IS IMPORTANT...